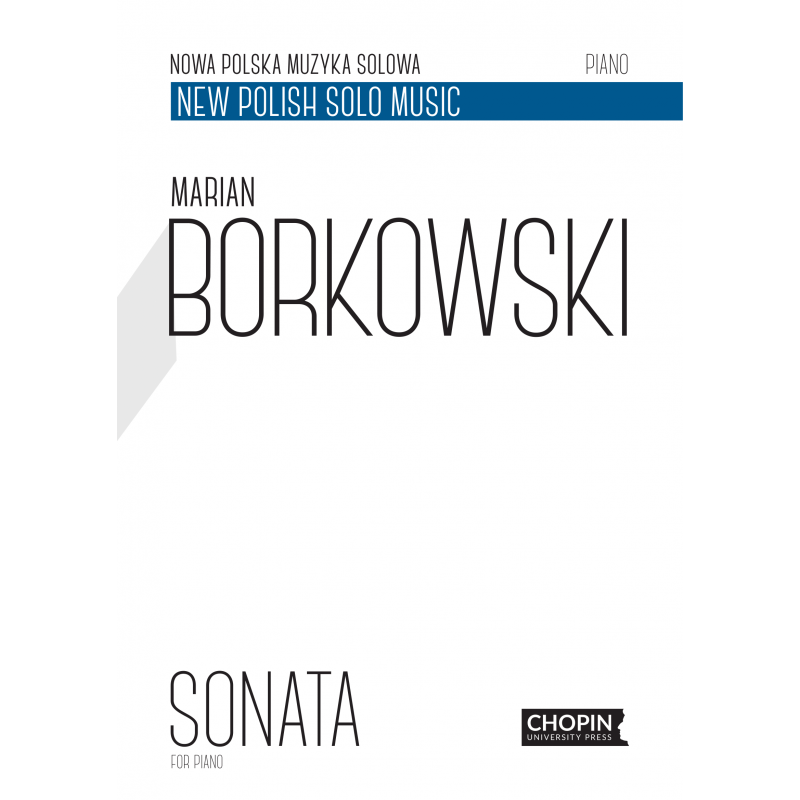  
Sonata / Marian Borkowski
Nota biograficzna
Marian Borkowski
Marian Borkowski - composer, musi-cologist, pianist, teacher, and organizer of musical events. Born in 1934 in Pabianice (Poland), he studied composition with Kazimierz Sikorski and piano with Jan Ekier and Natalia Hornowska at the Academy of Music in Warsaw (1959-1965; Master of Arts in 1965). At the same time he studied musicology at Warsaw University under Józef M. Chomiński (Master of Musicology in 1966). From 1966 to 1968, thanks to a French Government grant, he continued his postgraduate studies in composition with Nadia Boulanger and Olivier Messiaen at the Paris Conservatory and at the American Conservatory in Fontainebleau, and with Iannis Xenakis at the Paris-based Ecole Pratique des Hautes Etudes. He also pursued postgraduate studies in musicology under Jacques Chailley and Barry S. Brook at Sorbonne University of Paris. Simultaneously, he studied philosophy with Jean Hyppolite and Jules Vuillemin at the Sorbonne and at the College de France. He participated in International Courses of New Music in Darmstadt (1972, 1974) and in courses given by Gyorgy Ligeti, Iannis Xenakis, Karlheinz Stockhausen and Franco Donatoni at the Accademia Musicale Chigiana in Siena (1973, 1975 — Diploma di Merito).
Borkowski has been on the faculty of the Chopin Academy of Music in Warsaw since 1968, as a Full Professor of Composition since 1989. He served as Vice-Rector, Dean, Head of the Chairs of Composition and Music Theory, and Director of Postgraduate Studies in Composition and Music Theory.
He has given master classes and visiting professorships in composition at many universities and conservatories in the United States, Canada, France, Italy, South Korea, Chile, Romania, and other countries.
He has educated several dozen Polish composers, and has also offered instruction to many foreign undergraduate, postgraduate and doctoral students. His students and graduates have won more than 350 awards and honourable mentions at national and international composers' competitions.
His compositions have been performed in concerts in 25 European countries as well as in Australia, Bolivia, Brazil, Canada, Chile, China, Colombia, Cuba, Ecuador, Iran, Jamaica, Japan, Kuwait, Malaysia, Mexico, Peru, Singapore, South Korea, Turkey, the USA and Venezuela. His works have been featured at over 100 festivals, including those in Aixen-Provence, Berlin, Darmstadt, Geneva, Los Angeles, Madrid, Mexico-City, Munich, Paris, Seoul, St. Petersburg, Valparaiso, and Warsaw.
Borkowski's discography includes over 60 LPs and CDs on labels such as Acte Prealable, DUX, Global Sound Media (Seoul), GM Records, MTJ, Musica Sa-cra Edition, Muza, Olympia (London), Polonia Records, ProViva Intersound (Munich), Sound-Pol, Gamma CD and Veriton.
He founded and was Artistic Director of the Laboratory of Contemporary Mu-sic Festival from 1985 to 2013, and also served as President of the Laboratory of Contemporary Music Association from 1995 to 2013. He has sat on the juries of many competitions for composers and performers, in cities such as Belgrade, Florence, Paris, Esztergom, New Or-leans, Seoul, Suwon, Taegu, Valparai-so, Guadalajara, Rome, Cologne, Rouen, and Cambridge.
Borkowski is a prizewinner of the International New Music Composers' Competition in New York (1990), the Karol Szymanowski Competition for Composers in Warsaw (1974), the G.B. Vi-otti International Composers' Competition in Vercelli (1969) and the Young Composers' Competition in Warsaw (1966). He received many awards and nominations for the Tryderyk' Award of the Polish recording industry (1998-2019). His honours also include the Silver Cross of Merit of the Republic of Poland and the Knight's Cross and the Commander's Cross of the Polonia Restituta Order. 
| | |
| --- | --- |
| KOMPOZYTOR | Marian Borkowski (1934- ) |
| TŁUMACZENIE | Michał Kubicki |
| ILUSTRACJE / OPRAC. GRAF. | Jarosław Olejnik |
| WYDANIE | Wydanie 1. |
| MIEJSCE WYDANIA | Warszawa |
| WYDAWCA | Chopin University Press |
| ROK WYDANIA | 2019 |
| LICZBA STRON | 22 |
| OPIS FIZYCZNY | Partytura |
| OPRAWA | Oprawa miękka |
| SERIA | Nowa Polska Muzyka Solowa / New Polish Solo Music |
| ISBN / ISSN / ISNM | 9790801518668 |
| KATEGORIA I TAGI | |